This article first appeared in the Missouri Historical Review 101 (January 2007): 99-114. Copyrighted 2007 by and reprinted with the permission of the State Historical Society of Missouri.
"Bashi-Bazouks" and Rebels Too: Action at Camden Point, July 13, 1864
SCOTT A. PORTER*
---
Conflict and uncertainty were widespread in northwest Missouri in the summer of 1864. Federal forces, including regular army units and the Missouri State Militia (MSM), struggled in a heavy-handed manner to control areas much too large for their capabilities. Raiders from Kansas, including Red Legs (Union scouts with and earned nefarious reputation) and jayhawkers (troopers notorious for marauding under the command of Colonel Charles R. Jennison), continued to terrorize and pillage the local population. Further events that summer led to even more turbulent times. Confederate activity began to significantly increase north of the Missouri River, and large guerrilla bands and Confederate recruiters aggressively roamed the countryside, reclaiming towns from Federal control and adding new recruits to their ranks. This increase in rebel activity was not merely a belated reaction to the brutal conduct of Federal forces and plunderers who had infiltrated the area from Kansas, but also a preparation and anticipation of an expedition from Arkansas led by General Sterling Price to liberate Missouri from the grip of Federal control. Prices coming was a hopeful rumor for many in Missouri, especially for those living in Little Dixie along the Missouri River and farmers facing the Missouri-Kansas border. Confederate guerrillas and recruiters now sought to set conditions favorable for Prices forces while inspiring the local population to a general uprising.1
Col. Charles R. Jennison
Major General William S. Rosecrans, commanding the Department of the Missouri with headquarters in St. Louis, had known since the spring of 1864 that Price was planning "a great invasion" of Missouri. With information from his spies, Rosecrans also knew that Price expected a certain amount of "cooperation" within Missouri from those loyal to the Southern cause. As Rosecrans wrote in his December 7, 1864, report concerning secessionist preparations in support of Pricess Missour invasion: "In pursuance of these plans the lodges with rebel recruiting officers and agents sent into Missouri clandestinely, or under cover of the amnesty oath for that purpose, began an insurrection in Platte County on the 7th of July last. From that time guerrilla warfare raged in the river counties west from Callaway on the north and from Cooper on the south side of the Missouri [River]."2
The insurrection Rosecrans was referring to in Platte County was led by Confederate Lieutenant Colonel John C. Calhoun "Coon" Thornton, an experienced officer and veteran of such battles as Carthage, Wilsons Creek, Lexington, and Pea Ridge. In early 1863, General Price ordered Colonel John H. Winston and Thornton to conduct a recruiting mission in northwest Missouri. The two began their recruiting mission in northwest Missouri. The two began their recruiting in Clay and Platte counties, already a popular secessionist region. Price was very encouraged by a November 22, 1863, report from Winston and Thornton stating that recruits were plentiful and a majority of Southerners in that part of Missouri were ready to revolt. During a recruiting mission on March 22, 1864, in Platte City, Colonel Winston and his brother, Samuel, were captured by Captain J.Q. A. Kemper, Ninth Cavalry, Missouri State Militia, and sent to prison in Alton, Illinois, for the remainder of the war. Colonel Thornton subsequently took command of the entire mission and became instrumental in recruiting for the Confederacy. An educated man and a wealthy landowner from Clay County, his influence with the locals enabled him to persuade many to join the Southern cause. Dressed boldly in his uniform, Thornton traveled freely throughout the spring of 1864 in northwest Missouri, making stump speeches and signing up young men into newly formed Confederate units.3
By June the increase in rebel activity in northwest Missouri escalated significantly. On June 1 a skirmish occurred in the southeastern portion of Buchanan County at Arnoldsville between a band of guerrillas and local Federal militia from St. Joseph, resulting in three militiamen killed and several wounded. The guerrillas then crossed into Platte County, raiding and plundering the town of New Market of horses, guns, and money. Brigadier General Clinton B. Fisk, Federal commander of the Northern District of Missouri with headquarters in St. Joseph, took immediate notice of the increase in enemy activity within his area of command. In his report after the occurrences at Arnoldsville and New Market, Fisk stated: "We must look and prepare for considerable trouble. My advices from the river counties indicate the returning rebels and guerrillas are constantly crossing the [Missouri] [R]iver to this side." Fisk then sent three hundred militiamen in pursuit of the gang, but without any immediate result.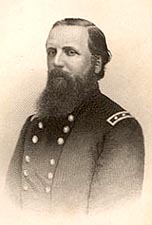 Gen. Clinton Bowen Fisk
The militia was a mix of Missouri State Militia from St. Joseph and Enrolled Missouri Militia from St. Joseph, Weston, and Platte City. The EMM was known as the "Paw Paw Militia," named after a small tree growing locally that bears a large, slick, cucumber-shaped from with a sickeningly sweet flavor. It grew along the Missouri River bottoms where guerrillas and other forces typically camped in the dense brush. These men, many of whom were recently conscripted from Missouri Confederate troops returning from the war in the East and South, were organized by the Federals starting in 1862 to help maintain order against both Confederate guerrillas and Kansan raiders. General John M. Schofield, commander of the Department of the Missouri prior to Rosecrans, began mustering local Missourians into the Enrolled Missouri Militia throughout the state. These young men, who usually received little or no pay for their services and were forced into the ranks, were a mix of loyalties. Many of them awaited their opportunity to join the Confederate forces. Fisk was convinced of this on June 11 when Captain Benjamin F. Poes Eighty-ninth Enrolled Missouri Militia from Plattsburg clashed at Ridgely against the same guerrilla gang previously at Arnoldsville and New Market.

Charles "Fletch" Taylor
Achance meeting engagement on the streets of Ridgely seemed at first to be a friendly encounter between two Enrolled Missouri Militias of about twenty men each, all in Federal blue. One of Captain Poes men suddenly announced the he recognized one of the men in the other unit as a known "bushwhacker." Revolvers were quickly drawn, and saddles on both sides were emptied before the remaining guerrillas escaped. One of the dead was Captain Holmes Overton, a Confederate recruiting officer serving under Colonel "Coon" Thornton. Papers detailing Thornton's recruiting efforts and a listing of rebel forces in Missouri and Arkansas were found on Overton. Lieutenant William Oldham, another Confederate officer under Thorntons command, was badly wounded. Poes men executed Oldham that same day, but not until after he had confessed that eleven of the guerrillas who had escaped were currently serving as Paw Paws. In contrast to Oldhams fate, Colonel Winston and his brother had been sent to prison just three months earlier for recruiting in the same area. Oldham, however, wore a Federal uniform and was riding with Paw Paw defectors and known guerrillas. Furthermore, the gang had singled out and killed several Federal soldiers, including Private Tomas H. Bailey of Company E of the Sixteenth Kansas Volunteer Cavalry while on furlough at home in Weston. Maybe the most damning evidence was the finding of a hat belonging to Major Henry Z. Curtis, the son of Major General Samuel R. Curtis, commander of the Department of Kansas. On October 6, 1863, Major Curtis had been summarily executed with a bullet to the head at Baxter Springs by William Quantrill's guerrillas. Back in St. Joseph, General Fisk was incensed. In his report about Ridgely, he wrote: "Eleven of them were on the muster-rolls of a militia company in this county, and they carried a Federal musket all winter. I am pushing after the villains day and night, and my limited force of reliable troops are nearly worn out. I can get help from General Curtis, who has kindly tendered it to-day, but I dislike [having] the Kansas troops come over here if it can possibly be avoided."4
The situation became worse for Fisk throughout June. Paw Paws were caught in St. Joseph with a large cache of gunpowder stolen form Camp Jackson three years earlier. Shortly thereafter, Paw Paws allowed seven guerrillas to escape from the St. Joseph jail. Guerrillas were being sighted almost everywhere, including in force in Farley and around Weston. Fisk realized a crisis was at hand. He sent for local civilian leaders to emphasize the consequences of supporting guerrillas. He ordered his Ninth Missouri State Militia to conduct patrols in Clay County and even dispatched Paw Paws in Platte County to patrol in their respective areas. Fisk reluctantly asked General Curtis for help. In the past, Fisk had complained directly to Curtis when Kansas troops crossed into Missouri without permission. Although Fisk had not complained to Rosencrans about the Kansas troops raids, only Rosecrans coult authorize such cross-department troop incursion into Missouri. Rosecrans firmly expected Fisk to raise and use Missouri militias and not Kansas troops who had reputations as Red Legs and jayhawkers not the best choices to soothe passions in northwest Missouri. But Fisk was desperate, and he neither asked nor informed Rosecrans about the request for help for the Department of Kansas.
By June 13, Curtis dispatched the Fifteenth Kansas Volunteer Cavalry to patrol for bushwhackers throughout Platte County. The county had long been the ferment of secessionist activity, and the Fifteenth Kansas quickly realized that the locals were not apt to provide accurate information about the location of guerrillas. The Kansan cavalrymen became further agitated when some locals in Platte City openly confronted them, calling them "Kansas radicals." When the Fifteenth Kansas suspected local support to the guerrillas, they often used a heavy-handed approach to gather information. Seven miles from Weston, in an area they suspected as a guerrilla camp, the soldiers came upon a homestead and questioned an older man named Fulton. When asked if he knew the location of a guerrilla camp, he "stubbornly refused" to give any information. According to Major Robert H. Hunt of the Fifteenth Kansas Volunteer Cavalry, they then "handled [the man] pretty roughly." Hunt continued: "At the moment a daughter of Fulton made her appearance, and aimed a revolver at Sergeant Gill and David Causort, our scout; the latter, however, disarmed the fair damsel; he also took from her a bowie-knife and flask of powder, all of which said scout has in his possession as a love token." To force information from the elderly Fulton, the Fifteenth Kansas hung him repeatedly until he was near death, but he revealed nothing. The troops searched homes and confiscated weapons around Weston, but after two days they gave up, went to Weston to drink beer "with their true friends the Dutch," and then withdrew into Kansas without finding any guerrillas.
Curtis was obviously frustrated after the Fifteenth Kansas returned with little to show. On June 16th he telegraphed Rosecrans, informing him of the Kansas troops scouting mission into Platte County. He telegraphed Fisk on the same day, informing him, "I telegraphed Rosecrans.... I am considerably annoyed by the efforts of some to press me into extensive operations on your side." While Fisk continued to feel he was losing control of northwest Missouri, Thornton started his "insurrection." He believed he had sufficient recruits to link up with Confederate guerrilla bands and start reclaiming northwest Missouri. According to Rosecrans report, the "insurrection" began in Platte County on July 7.5
Gen. William Rosecrans
Thornton's first objective in the county was the city of Parkville. His forces, aided greatly by Charles Fletcher "Fletch" Taylor and his guerrillas, including Frank and Jesse James, marched into the town early on the morning of July 7 and met little resistance. The local Eighty-second Enrolled Missouri Militia, under the command of Captain Thomas Wilson, was quickly surrounded in an old stone building on the riverfront. During and exchange of a few shots, Lieutenant Martin C. Nolan and a woman standing close by were wounded. Taylors men then used a battering ram to force open the front door, and the militia ran upstairs out of harms way. Upon Taylors command for them to surrender of he would order the building set on fire, the militia capitulated without complaint. Captain Wilson, at home but observing the guerrillas from a window, escaped just as his militia surrendered. Private Isaac Burk, a member of Company F, Sixteenth Kansas Volunteer Cavalry, was not so lucky. Most likely at home on furlough, he was killed by the guerrillas. Taylors men did not harm the surrendering militia, and all were paroled. Forty-two of the Eighty-second Enrolled Missouri Militia immediately donned Confederate uniforms and joined Thornton. The colonel had help in winning over the Paw Paws. His brother-in-law, Colonel James H. Moss, had recently served as commander of the two Paw Paw regiments. Since Confederate uniforms were at the ready, there is little doubt that Thortons new recruits were prearranged. In fact, many of the Paw Paws belonged to secret Confederate organizations such as the Knights of the Golden Circle and the Sons of Liberty and had previously collaborated to defect at the first opportunity.6
Jesse James
Thornton's troops next took Platte City from Federal control on July 10. At ten o'clock in the morning, Thornton led his forty-two former Paw Paws, now Confederates, from the east to the outskirts of Platte City while Fletch Taylor, with sixty guerrillas, approached the town from the Smithville road to the west. The colonel sent a message asking the Paw Paws to surrender. Lieutenant William Downing, the commander of a detachment of Company G, Eighty-second Enrolled Missouri Militia, went out to greet the rebels as welcomed guests, escorting them into town at five o'clock. Captain Richard D. Johnston, acting senior commander of all five Paw Paw companies in Platte City, surrendered them unconditionally. As in Parkville, the militiamen had Confederate uniforms at the ready. Within fifteen minutes, many of the Paw Paws had shed their Yankee blue outfits and were wearing Confederate gray. Some of the locals remained sequestered in their homes while others, especially women, became jubilant and celebrated their liberators. Thornton made a speech, stating, "I am here to fight Federal soldiers, and have the troops to whip any force then can bring against me. I know the Commander of this Department has no force to bring against me." Taylors exuberant guerrillas took down the Union flag, tore it into pieces, and attached the strips to their horses manes. The troops raised a small Confederate flag, and Fletch Taylor clutched a bloody knife while he made a disparaging speech against radical Unionists. Sixteen-year-old Jesse James sat for a photograph dressed in his guerrilla apparel, which included 36-caliber Colt revolvers, a guerrilla shirt with large from pockets for extra pistol cylinders, and a rakish hat.7
The next day, Captain John Thrailkill arrived in Platte City, a veteran Confederate officer from the First Missouri Cavalry, had been captured on July 18, 1863, and had suffered severe deprivations and maltreatment while imprisoned at Alton, Illinois. On June 10, 1864, he escaped from Alton and returned to Missouri to become a guerrilla leader. Paw Paws wandering in from across northwest Missouri, especially St. Joseph, added to Thorntons forces. For two days the rebels stayed in Platte City, robbing Unionists, recruiting incoming Paw Paws, getting organized, and planning their next move.8 A witness wrote: "Thornton's men while here robbed Holmes Store, and took some things from S. Johnson. They pressed horses and pistols, in some cases paying for them."9
Major William L, Kuykendall, Thorntons acting adjutant, now his ad hoc provost marshal, ensured the no one left the town without a pass. Around 3:30 p.m. on July 12, Thornton's new recruits along with Taylor's and Thrailkill's men, a force now composed of more than four hundred men, departed Platte City and marched approximately eight miles northeast to Camden Point, where their supplies of gunpowder and arms were warehoused. Upon their arrival late on the twelfth, then camped in an open pasture just off the road north of town.10
Camden Point citizens, known to have strong Confederate sympathies, hosted a picnic for Thornton and his new recruits the next afternoon. Meanwhile, Fletch Taylor, an experienced guerrilla, sensed an imminent attack. Federal pickets and spies had been reported that morning in Platte City, Bee Creek, and even on the outskirts of Camden Point. Taylor argued with Thornton that it was time to disperse, a common guerrilla tactic to avoid conventional warfare against a foe having much greater numbers. Taylor insisted that the Federals would attack as early as that day, but Thornton refused to show concern, even boasting that he could "hold the country." Upset that he could not convince Thornton of their peril, Taylor persuaded most of the guerrillas and recruits to march east with him toward Clay County. Thrailkill and a few of his band stayed but remained apprehensive of a Federal attack; Thornton, however, remained overconfident to the point of foolhardiness.11
Fletch Taylor was right. General Fisk, well aware of what was transpiring to his south in Platte County, had been complaining Rosecrans about disloyal Paw Paws in northwest Missouri since June. He sought to forestall the impending Paw Paw revolt by ordering all members of the Eighty-first and Eighty-second Enrolled Missouri Militia to turn in their arms at the St. Joseph armory. Unfortunately, Fisk issued the order too late; most of the men has already joined the Confederate ranks and now wielded Federal-issued weapons. Rosecrans assigned more Federal troops to the region, and Missouri's new governor, Willard P. Hall, assigned more Missouri State Militia to northwest Missouri. Fisk could not wait for the reassigned troops to attack an unsuspecting Thornton. He telegraphed Rosecrans, advising him that he had no choice but to ask Curtis for help. Rosecrans conceded, and Fisk telegraphed General Curtis at Fort Leavenworth, urging him to act quickly to attack the Confederates while they were still consolidated in Platte City: "I have the honor to request that you co-operate with me in striking a blow at the guerrillas, treacherous Paw Paws, who now hold Platte City." Curtis immediately responded: "I can co-operate an can strike heavy blows if desired, but I have [a] special request to remove clamor of intrusion. It would be well for you to lead. You know the disposition to slander outside troops." In the late afternoon of July 12, Curtis sent a strong picket force of seventy-five men to Platte City to gather information. Upon finding the rebels gone, they confiscated arms from citizens and took down the rebel flag that had been hoisted by Thornton's and Taylor's troops just days before. Federal pickets led by John Troy found Captain Johnston and arrested him for surrendering his Paw Paws to the rebels. Johnston stated that the rebels were en route to Camden Point, and Troy sent a telegram to Curtis, advising him of the rebels' destination.12
General Curtis began issuing instructions for a counted attack on the rebels at Camden Point. The plan required a concentration of all available cavalry from Fort Leavenworth, St. Joseph, and Kansas City. The rendezvous would take place as soon as possible at Weston, just north across the Missouri River from Fort Leavenworth. Curtis would send Colonel Charles R. "Doc" Jennison, notorious leader of the Kansas jayhawkers, with one company from the Fifteenth Kansas Cavalry consisting of 40 men and one company from the Sixteenth Kansas Cavalry with 30 men from Fort Leavenworth. Jennison's cavalry would cross the wide by shallow Missouri River by ferryboat or by swimming their horses. From Kansas City would come Colonel James H. Ford's Second Colorado Cavalry, called "Mountain Hogs" by Fisk because many of them had been Colorado miners before their Federal service. Ford's cavalry and the Second Colorado Battery, a total of approximately 400 men, embarked at two o'clock in the morning on two steamships, the Fanny Ogden and the Emilie. From St. Joseph, General Fisk sent Lieutenant Colonel Daniel M. Draper with three companies from the Ninth Missouri State Militia, totaling between 200 and 250 cavalrymen. They were to be transported by the Hannibal and Saint Joseph Railroad and arrive in Weston the next morning. Violent storms hampered the movements of all three forces that night, but by one o'clock the next afternoon, they had converged at Weston and were preparing for their attack. Including the large picket force already deployed between Weston and Camden Point, the Federals had approximately 700 to 1,000 cavalry.13
Colonel James H. Ford
On the morning of July 13, Federal pickets reported to Colonel Jennison that the rebels at Camden Point were holding a "public meeting" that all the citizens were expected to attend. General Curtis issued instructions for the Ninth Missouri State Militia to lead the attack at Camden Point. As Curtis had mentioned to Fisk, this choice was meant to avoid future complaints that "outside units" from Kansas or Colorado were attacking Confederates. Colonel Ford, however, had a different plan, believeing he had a score to settle with Missouri guerrillas. On July 6 his Second Colorado had suffered an embarrassing defeat at the hands of Captain George Todd's guerrillas. During a chance engagement on a road in Jackson County, Company C had been outgunned and outfought. The unit's commander, Captain Seymour W. Wagoner, and seven of his men were killed and one wounded in the encounter. Despite Curtis's guidance, Ford decided to lead the attack with his Coloradoans, followed by Jennison's cavalry, and then Draper's Ninth Missouri State Militia. At approximately three o'clock, the consolidated force of Federal cavalry under the command of Colonel Ford departed Weston and began to trot the twelve miles east toward Camden Point.14
After the dramatic departure of Taylor's guerrilla band and most of Thornton's new recruits that morning, the picnic at Camden Point was in full swing by midday. Most of the town's citizens were present, but only about 140 rebels remained in the area. Thornton made a rousing speech about "holding Missouri," after which the ladies presented him with a flag. Eliza A. Kuykendall, the wife of Major Kuykendall, had used her cream-colored wedding gown for the flag with sixteen stars on one end and "Protect Missouri" inscribed on the other. A red border finished the design. It had been a glorious day for Lieutenant Colonel Thornton.15
At approximately five o'clock, however, gunfire erupted from the west. Gray-clad pickets galloped into town with news of advancing Federal cavalry and the loss of two Confederate pickets at Bee Creek. The peaceful picnic was instantly transformed into chaos as the townspeople ran back to their houses and the Confederates began saddling their horses. Captain John Thrailkill knew what to do. He intended to engage the Federal cavalry at point-blank range with volley fire as they advanced from the town's narrow lane into the open field of the picnic area. Thrailkill instructed Captain Joe Macy and Lieutenant Alamarine Hardin to rally the recruits into a firing line. Noticeably absent from command of the firing line was Thornton, who would be labeled a coward by the Camden Point citizens for taking immediate flight upon hearing about the Federal advance.16
Major General Sterling Price
Soon the Yankees thundered into Camden Point at a full gallop. Formed four abreast in column formation, Captain George West and his Company F, Second Colorado, led the charge. Galloping north over the crest of a hill, West expected a docile public gathering in an open pasture. He saw something quite different. In his words: "The rebels were found drawn up in a line about three hundred and fifty strong."17 In reality, around 140 men composed the rebel firing line, but they must have appeared ominous on the reverse slope of the hill immediately to West's front. The captain hesitated, then ordered a charge after seeing the rebel color-bearer raise the newly presented "Protect Missouri" flag over his head. The clatter of musketry and the ring of revolvers echoed for miles. Men and horses tumbled. Panicked horses ran in all directions amid the smoke and dust, and mayhem erupted down the entire Federal column. Private C.A. Flannigan was killed immediately, three other Federal cavalrymen died later from their wounds, including Sergeant L.K. Crane, and eleven more men were wounded. Captain J. Q. A. Kempner, Ninth Cavalry, Missouri State Militia, described the scene at the rear of the column: "At the first fire of the [C]onfederates on us, several of our brave fellows, who were in the rear in that narrow lane, turned their back to danger and made themselves scarce."18 The rebels fired only a few volleys, but it was enough to allow them time to mount and attempt an escape against an overwhelming force. Johnson Barbie, one of Thrailkill's young guerrillas, was the defiant color-bearer. He attempted to make a quick escape after becoming the most popular rebel target on the battlefield, but after riding a short way, his horse was shot. Barbie dropped his prized standard and managed to escape, presumably by remounting with another rider. Captain West of the Second Colorado picked up the flag. Some of the Confederates did not escape. Lieutenant Alamarine Hardin and Private Richard Olvis fell on the firing line. Their gallantry cost them their lives, but they likely saved many of their comrades by helping to stall the attack. The Federal momentum had been broken, and their advance was delayed long enough for the remaining rebels to scatter north and east.19
Unfortunately for Ford, only a small percentage of his cavalry, about 150, was able to assault the rebels. Jennison's jayhawkers were too far back in the column to aid the initial assault, and Draper's Ninth Missouri State Militia failed to enter Camden Point. Ford's failure to attack on multiple axes led to the escape of all the rebels except six. Two were killed in battle, and four were captured in the melee that followed.
Although the Confederates at Camden Point considered themselves protectors of their territory, the Federals considered most of them traitors, especially the recent Paw Paw defectors. Confederate Private McCormack, wounded and in great pain, hid in some bushes under a fence corner. Hearing his cries of pain, Federal soldiers climbed the fence and shot him dead. Confederate Privates Andrew Smith, Jasper Clements, and Jesse Myles were captured as they tried to escape. Their captors summarily executed them all.20 Both Ford's and Jennison's men were well known by pro-Union and pro-Confederate Missourians for their inhumane actions. One outraged Southern writer described the Camden Point operation:
A force of the best fighters and worst men in the service on the other side of the river was directed to make a raid into Platte county. They were the principle parts of two regiments, the Fifteenth Kansas under Col. Jennison, of fragrant memory, and a Colorado regiment under Col. Ford, the only one in the service whose reputation exceeded that of Jennison's men of murders and arsons committed and horses, household goods and ladies' wearing apparel stolen. A.J. Miller's company and [William] Fitgerald's men of the Sixteenth Kansas were along to complete the worst body of cut-throats and freebooters that ever tortured a victim or looted a community-the scum and outlaws of society as a rule, the Bashi-Bazouks of the Western border.21
The local Federal command sanctioned this conduct. In a telegraphed message to Major General Curtis on July 12, Brigadier General Fisk had stated: "I thank you for your hearty co-operation in the combined movement against the Confederates and Paw Paws, who hold Platte City in the name of Jeff. Davis. I trust that there will be no prisoners taken by our boys, and that a lesson will be taught Platte County that will be wholesome and admonitory to other localities where the Paw Paw tribes do congregate."22
While Ford's "Mountain Hogs" ran down escaping rebels "like so many dogs with no mercy," Jennison's jayhawkers chose to take immediate retribution on the ordinary citizens of Camden Point.23 The jayhawkers first plundered and then burned the town, including twenty homes, two stores, a tin shop, a blacksmith shop, and a variety of warehouses. They murdered George M. McCuer, one of the oldest citizens in the county, while he stood in his doorway. By the next day, about two-thirds of the town was burned to the ground, and the Federal wagons were full of stolen goods.24 Much of Thornton's supplies were also lost. Colonel Ford reported: "Captured and destroyed a large number of muskets, shotguns, cartridges, accourterments, &c.; also ten kegs of powder."25
The Federals were not finished. The next morning on July 14, Jennison's and Ford's troops trotted off to terrorize Platte City, where they pillaged, burned, and murdered men. At about three o'clock in the afternoon, the Federals started burning buildings and continued to set fires throughout the next day. Homes, churches, hotels, shops, a Masonic hall-just about every building in town except for a Baptist church and a Christian church were burned to the ground. Why the Baptist church was spared is unknown, but Jennison had given orders that the Christian church be saved because his wife was a member of the denomination.26
By the time the Federals finished at Platte City, only nineteen male residents remained. The rest had been murdered or had fled for their lives. Tragically, this was not the first time the Federal army had burned the town. Without provocation, late on the night of December 16, 1861, Colonel W. James Morgan and members of his Eighteenth Regiment of Missouri Volunteers had ridden into the town and set fire to a number of homes, but primarily the business district and courthouse. Morgan's men had also captured Black Triplett and Gabriel Close, two Confederage soldiers on furlough in Platte City. On the way back to Weston, Morgan executed the soldiers on the Bee Creek bridge and threw their bodies into the creek. Morgan later paid for this war crime by being court-martialed, stripped of his command, and dishonorably discharged. The citizens of Platte City experienced their first taste of the war with Morgan's excursion into their town, learning that the Federal army was not there to protect them.27
After burning Platte City for the second time, Ford's and Jennison's forces separated on July 15. Ford's men rode to Liberty, killing two farmers and a young boy along the way. Jennison's men went to Parkville, burning at least one house and murdering three men they encountered along the road. Both commands stole from the locals. A witness reported: "They took the wagons and teams and then took the plunder to load them. Horses, wagons, harness, saddles, household goods, wearing apparel, meats, provisions of all kinds-everything that a foraging party of thieves would be expected to lay their hands on was taken and carried away."28
For weeks, Federals chased the rebels who has escaped from Camden Point, killing them on the spot when they were able to catch them. Both sides lost men during skirmishes, including one near Camden Point on July 22, but these were just small pockets of rebels encountered by Federal patrols. Most of the experienced guerrillas and many of Thornton's recruits managed to survive and link up again. By July 17, Thornton, Thrailkill, and Taylor had consolidated their approximately 300 men and attacked a scouting party of 42 troopers from the Second Colorado near Fredericksburg on the Clay-Ray county line. The Federal troops ran out of ammunition and lost 10 men (6 were killed and 4 others wounded), causing Captain Thomas Moses of the Second Colorado to desperately give the order to "separate and do the best they could do." The tables then turned. Pursued by 250 Second Colorado troops, Thornton was forced to disperse many of his forces into smaller bands. On July 20, having again consolidated some of his guerrilla chieftains, he moved north into Caldwell County with approximately 140 men, attacking and plundering the pro-Union towns of Kingston and Mirabile. The following day the rebels moved west into Clinton County, and Thrailkill sent a message to Captain Poe in Plattsburg to surrender his and allow his men to change sides. Besides, Thorton was waiting for Thrailkill outside the town to pay retribution to Poe for the killing of Captain Overton and Lieutenant Oldham the previous month. The rebels attacked and killed some of Poe's Paw Paws but suddenly withdrew toward Haynesville rather than risk further casualties.29
Maj. Gen. Samuel R. Curtis
Although Thornton's actions kept the Federal cavalry diverted in July, his greater objective of raising a conventional army to link up with Sterling Price never materialized. In mid-August, Thornton met with guerrilla leaders John Thrailkill, Fletch Taylor, George Todd, and Dick Yeager in Lafayette County in a council of war. After the meeting the chieftains remained to fight in Missouri with the preponderance of men while Thornton, with only about 100 men, departed to link up with Price's army. Thornton survived the subsequent invasion of Missouri and the war. Instead of returning to Missouri, he and his family spent their lives in Butte, Montana, where he was a successful lawyer and investor in the mining business.30
Colonel Ford of the Second Colorado did not suffer any consequences by ignoring General Curtis's instructions for the Ninth Missouri State Militia to lead the attack on Camden Point. Curtis may not have realized that the Ninth did not lead the Federal force or, more likely, larger events that followed quickly overshadowed Ford's relatively minor disregard of a senior officer's orders. The Federal army put and end to Jennison's jayhawking. By November 1864 some of Jennison's own officers complained about the pillaging and burning of Missourian's homes. Like Morgan, Jennison was court-martialed, lost his command, and received a dishonorable discharge. Jennison's good deed in saving Platte City's Christian church did not win him favors with his wife. She divorced him in disgust after the war when she learned he ran a house of ill fame and gambling at Fort Leavenworth.31
There were no bawdy houses across the river in Platte County after the war, only severe deprivation and hardship, especially in Platte City and Camden Point. While trying to rebuild their towns and their lives, the people remembered and wished to pay tribute to the Confederates who gave their lives to the Confederates who gave their lives during those fateful days in July 1864. On September 23, 1871, Camden Point residents held a meeting to plan the establishment of a memorial and the reinterment of Confederate remains from the area of action to the Pleasant Grove Cemetery located just north of town. From the shallow graves close to where they had fallen, the soldiers were reinterred, side by side, on October 28, 1871, next to the new memorial, the second (third, actually) Confederate memorial to be built west of the Mississippi.
On November 1, 1871, just seven years after the town was burned to the ground, a dedicatory ceremony began at the Baptist church in Camden Point. The ceremony's marshals, the Weston Brass Band, relatives of fallen Confederates, dozens of Confederate veterans, and local citizens formed a long parade column. Like the night before the battle, it also stormed the night before the ceremony. While the band played the "Death March," the somber participants marched the one-half mile north along ankle-deep muddy roads to the ceremonial site in the cemetery. There they viewed the fresh graves and the new memorial, a six-foot-tall white marble obelisk chiseled with the names of the six Confederates killed in or around Camden Point. On the west side of the memorial, they saw a design of floral leaves and a saber and an inscription: "ERECTED TO THE MEMORY OF CONFEDERATE SOLDIERS BY THEIR FRIENDS." Dr. E. McDowell Coffey, a Confederate medical doctor who was at Camden Point on July 13,1864, briefly explained. the hostilities and the purpose of the event. He then introduced the Revend Thomas Hurst who made a "fervid hearfelt prayer." The large crowd then marched slowly back to the Baptist church to listen to Major C.W. Helm of Leavenworth and the Honorable R.P.C. Wilson, a Missouri state representative. But before they went to church, they attended to some unfinished business. On that cold and damp day, they finished a picnic they had begun seven years earlier, before it had been violently interrupted.32
In 1889, Brigadier General George West retired as Colorado's adjutant general. In 1905 he learned that Congress was considering a reconciliation act that required all Confederate battle flags to be returned to the state from which they originated. West believed that the Camden Point's "Protect Missouri flag involved important local sentiment and should be returned to those who made it. He wished to return his flag, the one the ladies of Camden Point had give to Lieutenant Colonel J.C.C. Thornton, to the original owner. Upon finding that Eliza Luykendall and the other ladies who had sewed the flag were gone, he had another idea. During a "Blue and the Grey" meeting in Denver on November 11, 1905, he presented the flag to another attendee, Major William L. Kuykendall, the husband of Eliza.33
If Kuykendall reminisced about the returned flag, he must have remembered the disastrous aaftermath of the fight at Camden Point. "Protect Missour" is not what Thornton had achieved-quite the contrary. Federal acts of brutality against the citizens of Platte County only increased after Camden Point, and many blamed Thornton for inciting the scourge of Jennison's jayhawkers. Thornton's actions initially diverted and disrupted Federal forces, but they also alerted the Federal commanders in Missouri and Kansas to work together and aggressively forestall public support for Price's plan to retake Missouri.34
---
*Scott A. Porter, Lieutenant Colonel, U.S. Army, retired, is assistant professor at the Center for Army Tactics, U.S. Army Command and General Staff College, Fort Leavenwoth, Kansas. He has a BA and an MEd from the University of Arkansas-Fayetteville.
---